Flood waste collection, services update
Friday, 11 March 2022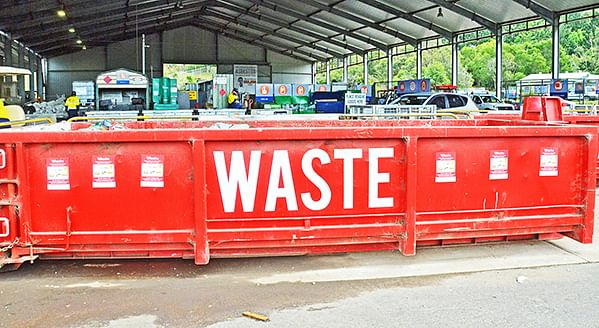 The Lismore Recycling & Recovery Centre is currently closed due to flood damage.
The Nimbin Transfer Station is operating under conditions (Please see Locations and Operating Hours Page)
Public Works Advisory (PWA), which is in charge of Lismore's Clean Up, has developed a waste collection and disposal strategy for the Northern Rivers 2022 Floods based on previous experience in natural disasters and flood recovery works.
Waste collection and disposal is categorised as the following three tasks:
Kerbside Collection
Temporary Regional Waste Facility
Commercial Facility (Disposal)
KERBSIDE COLLECTION
PWA is liaising with ADF, Council and residents to get flood affected residents to move their waste to the kerbside for collection.
Increased traffic movements and disruptions during clean-up.
ADF will be assisting residents with household waste removal and street clean-up.
TEMPORARY REGIONAL WASTE FACILITY
A temporary regional waste transfer facility has been established at Alstonville.
PWA has developed haulage route maps for interstate / non-local waste removal contractors to get from affected areas to the waste transfer facility.
SUEZ are managing the waste transfer facility and have established a coordination centre, traffic management and environmental controls at the site.
Waste is being received from all areas of the Northern Rivers to ensure local waste disposal facilities are not overloaded
The flood waste is segregated for recovery where possible with SUEZ targeting a 40% recovery and recycling rate, as seen previously in flood recovery operations.
COMMERCIAL WASTE FACILITY
Waste is compacted and loaded into large haulage trucks for disposal at the Veolia Ti Tree Bioenergy Facility located in Willowbank QLD.
Ti Tree Bioenergy is a waste disposal facility that utilises "best practice" bioreactor technology to rapidly stabilise waste while capturing environmentally damaging methane and converting it into electricity.
Recyclable waste is transferred separately to these facilities for recycling.